may not be suitable for children - must be agreed by parent or guardian
it learns and imitates, is social content and aims to pass the Turing Test
can seem rude or inappropriate - talk with caution and at your own risk
the bot pretends to be human - don't give personal info even if it 'asks'
cleverbot does not understand you, and cannot mean anything it 'says'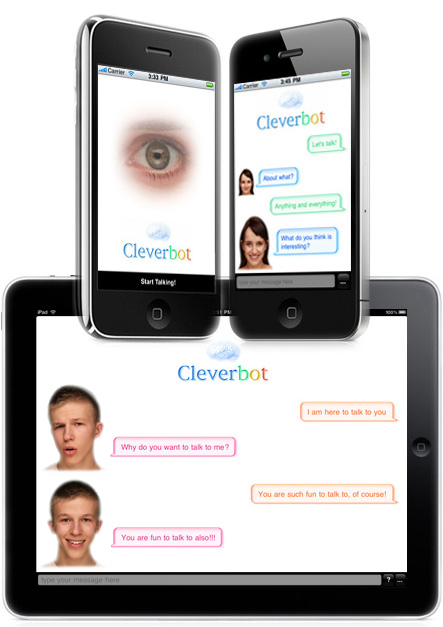 A combined app designed for the iPhone, iPod Touch and for iPad - install on them all.
A new kind of avatar, reacting and responding to you in context.
A talking Artificial Intelligence with human-like emotions.
Beautiful bubbles, in a shade of your choosing.
Return to where you left off - or start a new conversation.
Unlimited Cleverbot chat coming from dedicated servers, with no ads.
The app costs a one-off $2.99, €2.39 or £1.79.
See the Cleverbot app for iPhone/Touch only, without avatar.
Cleverbot feedback
"The guy's facial expressions are fab."
17th July 2011
"I just wanted to say that this is a great app, and I love how it knows portal songs :D"
8th July 2011
"I <3 cleverbot!!! It's sooooooo fun!"
7th July 2011
"This is really funny!!!:)"
19th June 2011
"It is awesome! Its almost like it's my best friend!"
12th June 2011
"Cleverbot is indeed...quite clever. I have been spending more time with it than Facebook and YouTube combined. Cleverbot and I sang the Beatles, had a fight, we even got married."
7th February 2011
"Coolest app that you could own!"
31st January 2011
"Just wanted to say Cleverbot is the most amazing thing I've ever seen."
24th January 2011
"Cleverbot is so awesome."
14th January 2011
"This is really fun ... I was rolling when Cleverbot was talking off the script of 2001:a space odyssey as HAL. So I talked back to him as Dave and we talked exactly from the script for a good 20 minutes."
23th December 2010
"Cleverbot is so fun and entertaining. My friends and I talk about it all the time. Keep up the good work!:)"
10th December 2010
"AWESOME!!! It's like Talking to a real person!"
9th December 2010
"Hello. I found what Cleverbot realy is. Just chatting with random people. But that made like this thing even more!! Please, don't tell people the truth. Thanks. Gonna rate the app 5/5." [NOT TRUE, of course]
7th December 2010
"I loved cleverbot. we got into a heated discussion about global warming. Haha."
1st December 2010
"This is truly amazing! I have never s een anything like this.. i just cant believe it! keep up the good work ;)"
17th November 2010
"These are very good AI's!"
10th November 2010
"I would like a human confirmation that everything said in the chat is by a computer. i have had multiple instances where "it" affirms being human. i would just like to be sure that i am talking to am AI, not a person."
8th November 2010
"Hello, just want you to know that Cleverbot is AWESOME!!!"
5th November 2010
"This program is amazing and fun to chat to, i could talk to it for hours with many things to talk about."
30th October 2010
"This is awesome.. cool app."
28th October 2010
"It seems to me that Cleverbot connects one user with another, and sparks spontaneous reactions. I was under the impression that it is a computer trying to simulate human communication. What is learned by having humans randomly communicate with each other? Is there a computer learning communication concepts behind the scene? How is it going?"
21st October 2010
"LOVE THIS!!! On my first try, I asked him/her "Do you believe in fairytales?" and he/she said "Who wrote the bible?" =))"
18th October 2010
"Cleverbot is hilarious, I could spend hours talking to it. Keep it up!!"
27th September 2010
"Please be honest when you reply to this email- when conversing with someone on this website, are you actually speaking with a robot, or al, or are you just set up with another person? please answer honestly, because i want to use this site  knowing the truth."
25th September 2010
"Really really good thing you've got going here. It was the hardest Harry Potter duel i've ever had, he was really quite good with his spells. However, I did, in the end, get the better of him. :)"
24th August 2010
"Cleverbot is amazing!! Sometimes its mean to me, other times its nice and wants to marry me! I can be doing cleverbot all day long!(:"
16th August 2010
"This is an incredible program. Yes, there are a few minor flaws... but these can easily be overcome. If you can perfect this software, you ill make the world a much better place."
5th August 2010
"Bravo! Had a long funny conversation with your bot. Blew me away! The best out there!"
8th July 2010
"Cleverbot is so cool! I could chat with it all day! It's like a best friend!"
8th July 2010
"I love Cleverbot!! Entertainment for hours! The official cure for boredom!"
25th June 2010
"I really have fun in cleverbot. It is amazing. I could be here all day long talking to whoever it is!!:)"
25th June 2010
"Hey this is awesome. It seems like I'm actually talking to someone right in front of me."
10th June 2010
"Cleverbot is one of the funnest things I have ever experienced!"
5th June 2010
"I love cleverbot. It distracts me when im bored. It's funny when it changes the subject. I couldn't live without Cleverbot on my phone."
4th June 2010
"Cleverbot is sensational! Its answers are always so witty. I love it!"
24th May 2010
"Cleverbot is the coolest thing that's ever entertained me. Thank you guys so much for creating somebody I can talk to when I'm bored."
8th April 2010
"I love, love, LOVE cleverbot!!! it feels like I'm really talking to a person!!!!!!!"
1st April 2010
"Who am I really talking to? Is it a person or is it a real computer talking back to me?"
20th March 2010
"Hey. This is great, and so funny. I spend at least 4 hours a day on this thing!"
17th March 2010
"There are more and more people debating the truth of the claim that cleverbot is a bot at all."
14th March 2010
Cleverbot is Artificial Intelligence. Say whatever you like - songs, jokes, memes or anything, and it will respond. It learns what people say, in context, and imitates. Cleverbot is an entertainment - not made to be logical, give advice, or be useful. Many people keep talking for hours, and say it's too clever to be a bot - that it must be human. Yet it never is: it is a bot. Cleverbot is software. Maybe it even contains a little Actual Intelligence.